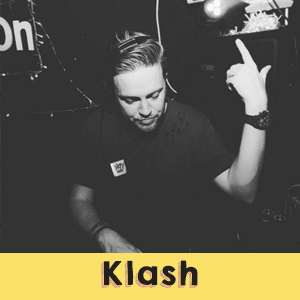 KLASH
KLASH's residencies focus on no-nonsense House Music and its sub genres. KLASH's passion for House started in the mid 90's and this experience can be heard! KLASH regularly uses 3 decks in his sets, allowing him to add vocal and classic samples to add an element of live remixing on the fly.
KLASH was brought up immersed in house music; you could say it's in his veins! His father was a veteran promoter from Cambridge who used to put on illegal Rave's up and down the country in the early 90's, many a time with a young KLASH in tow.
KLASH's sets are a journey, on point, feel good and ultimately get the crowd dancing!
Supporting a variety of Household name DJ's in his career, stepping to the decks back in early 2013 after a hiatus, has seen him playing at some of the best UK venues, he has also supported such names as Sam Divine, Danny Howard, Brandon Block, Tristan Ingram, ToolRoom Records very own Mark Knight & the legend that is Judge Jules. KLASH has developed his sound around Tech House, big basslines with a vocal twist…
In 2017 KLASH won the prestigious BPM Pro DJ of the year, a competition consisting of thousands of DJ mix entrys, judged by an industry panel then five finalists were chosen. The finalists were invited to the NEC in Birmingham during the BPM Pro live show. KLASH was announced as the overall winner, and got to showcase his style with a live mix on main stage in front of packed arena full of music fans and industry heads, KLASH finished his set by passing the decks over to Kissy Sell Out (KSO)
" Klash has hit the house scene by storm! Offering the crowd a blend of uplifting vocals and tough tech beats, he has quickly become a recognised name on the circuit, with a regular radio slot, BPM event DJ of the month award on numerous occasions, and now finally DJ of the year. This musical talent is sure to be making waves for the foreseeable future. Not afraid to take the crowd on a journey KLASH digs deep and sets the floor alight with a mix of House sounds and its subgenres from 80's Style funky groove, 90's garage through to pioneering new Deep Tech beats"
(source – BPM)