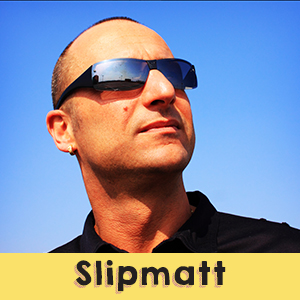 SLIPMATT
When one refers to an artist as 'an absolute legend', 'Godfather' or 'international hero'; more often than not it can be a term applied by the support of loving fans Worldwide or in some cases media hype that pertains to the artist in question being somewhat exceptional in their chosen skill on a global level. 'Godfather' as many of those that have witnessed Francis Ford Coppola's award winning cinematic trilogy of films of the same name will attest, can also refer to a Sicilian Crime Family Boss. Now, whilst the DJ and Producer and all round 'international legend' known as 'Slipmatt' has no affiliations with Sicilian families or crime (thankfully), he is most definitely in this case one deserving of the titles 'Godfather' and 'Boss'. Here's the exception to the rule though, he did not give himself these names, these accolades were not created off the back of some 90's hype campaign, the name Godfather – in reference to the 'Godfather of Rave' is a name he has worked very hard for nearly three decades to earn, and earn it he most definitely has.
Picking up and playing his first record at just eighteen months old, it was pretty much decided upon there and then that it was obvious that bringing new music to the masses on a regular basis was going to be his chosen profession moving forward. By the age of 4, he had purchased his first record and by 10 he had played his first gig at his School Disco. At 13 he had a very impressive collection of 2 Tone, soul and reggae records; then at 14 he was already playing out at parties and putting together his own tracks by playing around with different genres of music, splicing tapes and experimenting with samples. It was around this time that he discovered a deep and respectful fondness for house music and a taste for blending house and hip hop together which one might comment that he became quite skilled at, so much so that he took his skills to the World famous DMC mixing competition shortly after where he joined fellow (now international) artists Carl Cox and DJ Hype in the running.
At just north of the tender age of 18, Slipmatt had worked hard to purchase his first set of Technics 1200 turntables and already was a fully fledged, beat matching, crowd rocking DJ, playing to fully stacked parties and events before he had so much as considered his still so far away twenties. This would be a feat achieved with close friend and musical colleague, DJ Lime with whom Slipmatt would create an outlet for their musical exploits together in the setting up of pirate radio station Raw FM.  That would not be their primary achievement though, as in late 1989 the two would form to create the now legendary production duo SL2, alongside MC Jay that would go on to become one of the most incredible acts in underground music history.
Their first record together, 'Do That Dance' was signed to B/WARE RECORDS and shot the boys to underground fame whereby either as a double act or apart the lads would quite literally be the talk of every town hosting a major underground party, something that would eventually then take them to a Worldwide status. As rave was exploding in a majorly successful way, so was Slipmatt, with bookings for such organisations as Perception, Vision, Fantazia, Universe, World Dance, United Dance, Dreamscape, Helter Skelter, Slammin' Vinyl, Rezurrection, Hardcore Heaven and Moondance all coming a calling; it would be the very beginning of something for Slipmatt that would take even bigger shape still in the coming few years.
Not truly realising the level of popularity in which SL2 were reaching at the time (the two had by this stage created and cultivated their very own Awesome Records label), their first huge release on their own outfit, 'The Noise / Bassquake' had taken the notice of the owners and operators of the now colossal record titan known as XL Recordings, also responsible for electronic music Godfathers and game changers The Prodigy and in later years, the ground breaking Basement Jaxx and even, to this very day and in more recent times the multi international award winning, platinum artist; Adele.  SL2's release 'DJ's Take Control / Way In My Brain' would hit number 11 in the National UK Charts propelling the lads into a life changing career state that would see their follow up record 'On A Ragga Tip' become one of the most iconic tracks in all of dance music history. Taking a No. 1 chart position in the Network Charts and No. 2 in the UK National Top 40 meant Slipmatt and Lime were to become a focal point for the media spotlight with appearances on Top Of The Tops and Dance Energy becoming career highlights for the wayward team.